Metadata Best Practices
Metadata Best Practices and Common Uses
What is Metadata?
Within a digital asset management system, metadata is a means of describing media, its uses, context and limitations, and providing information about existing structure, containers and associated modules. Metadata fields can be used for searching, summarization, providing context, association, reporting and workflow throughout the UI. Using metadata best practices can make the difference between a useful application and an obscure storage pile. [emplayer assetid="AVOg4Vlh6VdKcN3Bv2d8" height="470"]
Search
To conform with metadata best practices, searching based on metadata should offer a combination of customizable tools and fields for a variety of search needs. An intuitive DAM should offer multiple search widgets that can be customized and used in combination to provide results. EnterMedia offers four primary search tools, each with unique functionality.
Advanced Search:
Can be customized on a per user or per application basis. Users can add their own fields so they can search based on their own preferences. Fields can be searched individually or in combination.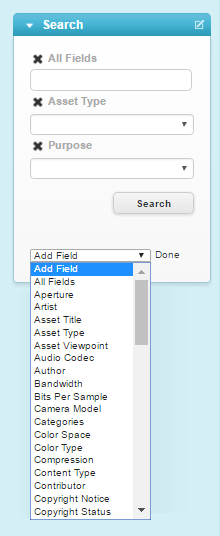 Filters:
Provide a way to quickly narrow results by predefined fields such as asset type. Users can single click a filter to get more specific results. Each filter provides a number so users know how many results to expect. Unused filters will automatically recalculate each time a search action is completed.

Categories:
Initially serve as a reflection of existing folder structure on mounted drives. However, categories in EnterMedia are not limited to physical storage. Categories are structural metadata and can be used to create parallels without moving or copying files. This keeps media from taking up unnecessary space. By single clicking categories, users can expand existing trees and drill down to specific subfolders and related contents.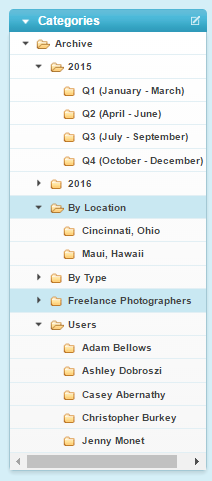 Library/ Collections Tool:
 Provides quick links to workflow areas. Libraries are permission based and will only be available to designates users, groups or security roles. Collections are contained within Libraries and serve as shared baskets where users can annotate, approve and interact with assets in other advanced ways.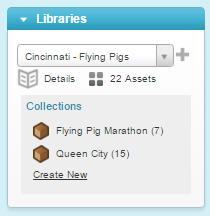 Reporting
The table view for search results is customizable on a per user basis and can be used to create custom exports. This data view is extremely useful for providing quick previews of key metadata. Results in this area can be sorted by designated fields. To create a custom csv report users must have permission to customize their table view. The csv report will reflect all fields currently present in the table view. Add desired fields, then select Export CSV from the dropdown action menu.

Editing
EnterMedia supports multiple data views that are accessible within the UI. Data views can be protected via permissions so certain fields are only available to designated users. Assets can be edited individually, or in groups. Individual fields can be modified with advanced permissions.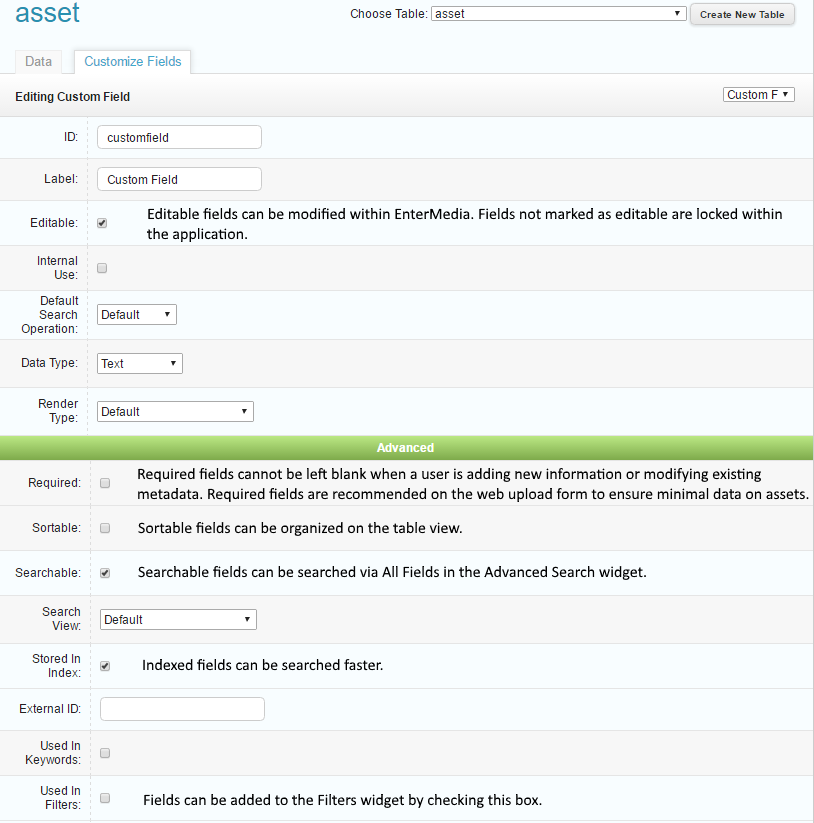 After changing field properties, remember to reindex the asset table. Data views are available for viewing and editing metadata on assets. These areas will appear more full on individual assets, when all available metadata is shown. When more than one asset is selected the page will only show information that is common across all selected data records. By default, EnterMedia comes with two data views (General and File Properties). Additional data views can be created and customized by system admins. Data views can also be protected by custom permissions if some metadata needs to be restricted to specific users.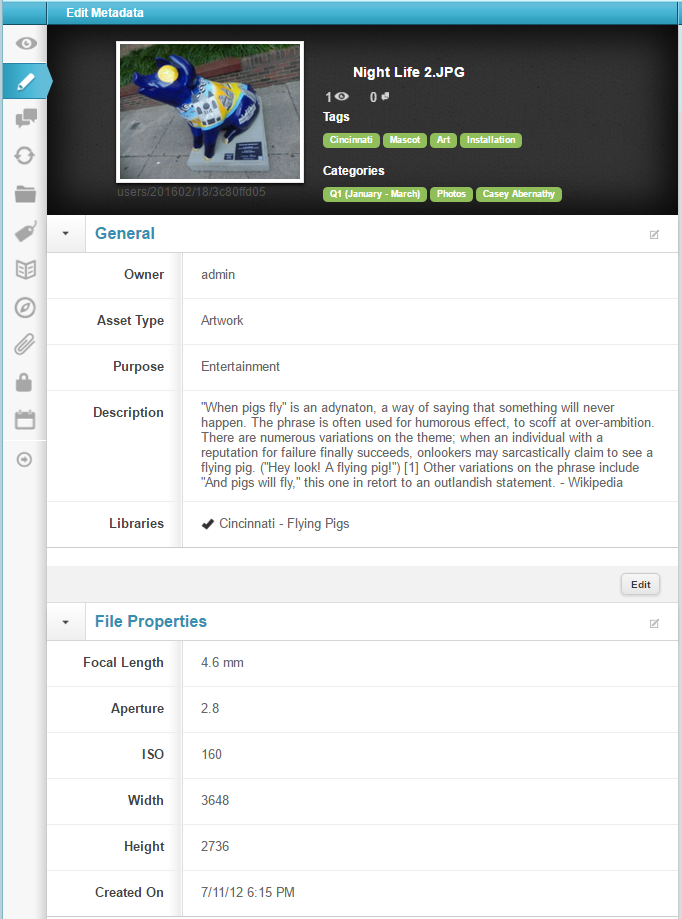 Metadata Best Practices
DAM administrators have a responsibility to put systems in place that ensure users can easily find, identify and manage media. Here is a list of metadata best practices:
1.) Require fields
- Required fields cannot be left blank when a user is adding new information or modifying existing metadata. The web upload page is a great place to add multiple required fields. This will ensure that no media can be uploaded without basic information.
2.) Use controlled vocabulary
- Single select lists and multi select lists can be used to keep users from misspelling terms or labeling media in obscure ways. This will keep terminology consistent and predictable throughout the application. Permissions can be specific user profiles that allow them to add list values on the front end of the application.
3.) Promote key fields
 - Key fields, like tags, should be accessible in multiple areas throughout the application. Making them available in the Advanced Search area or Filters, will make it easy for users to search based on these fields. Placing them in the table view makes it easy for users to identify that search results meet their specific criteria. Lastly, make sure the fields are featured in General, File Properties, or some other custom metadata view.
4.) Keep it Simple
- Sometimes less is more. By focusing the UI and related workflows on core content, administrators can create a more intuitive environment. Advanced fields, department specific fields, or other exceptions, can be placed in permission based data views so they don't interfere with the process of other users. Users can be given permissions to add additional search terms, table result fields, and data views as their workflow requires.
5.) Take advantage of granularity
- Specific fields allow users to be intentional with results. Having designated fields for locations, dates, stakeholders, history, rights usage, etc.. can be very useful up front and over time. Relying too heavily on a field like tags can become chaotic. Useful Information can get lost in the clutter of unrelated terms.
6.) Automate information
- Sometimes metadata, such as product number, is written into a filename or a folder name. EnterMedia can be customized with scripts that can be taught to extract or assume information based on other context clues. As long as there are consistent variables to build from, automation can be used to save a lot of time and effort when labeling assets.
7.) Dedicated data views
- Most DAM systems will support dedicated data view. Some categorical examples are:physical properties, rights management, and business information. Dividing metadata into these types of areas makes it easy for users to find desired data. Admins should be able to add and customize data views as requirements change.