Managing Metadata - Categories
Grouping assets into categories is one of the easiest ways to manage related bulk content. With unlimited categories and subcategories, users can one-click search for items based on general information. Media can be assigned to multiple categories and categories can be renamed or rearranged as necessary.
To begin working with categories click on Settings | Metadata | Categories. 
By default, EnterMedia ships with two categories and three related subcategories. Adding, editing and removing categories can be done here by using the buttons on the right side. Drag and drop is enabled in the category area for easy visual rearrangement.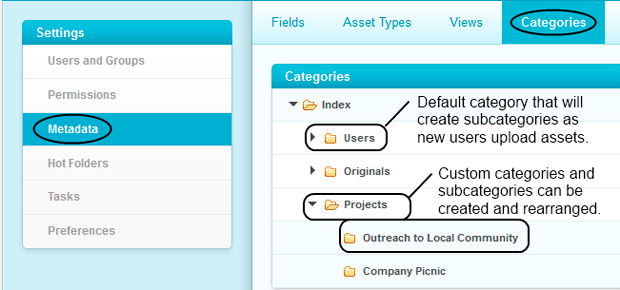 The users category automatically generates subcategories if a new user uploads an asset. Hot folders can also generate their own categories and subcategories as they are populated with media. Assets in the table or gallery view may be dragged and dropped directly into a category. As media is moved, there will be a visual confirmation that the asset was accepted. Adding an asset to a new category does not remove it from its current categories. Categories are useful when users want to find collections of related content. Users can single click search any category or subcategory. Clicking a parent folder will pull results from all contained child folders. When viewing media in asset detail mode, the related media side bar is populated with other files that are contained within the same category. When in the asset detail area you can access and modify category details by clicking on the edit button.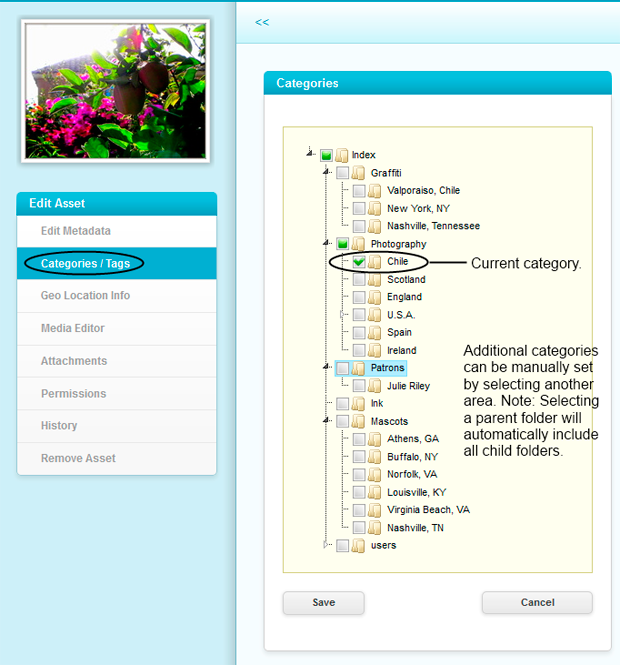 Assets can be ties to as many categories as desired. If a category/subcategory is representative of a physical location on a storage device, such as in the case of a hot folder, standard file limitations will apply. The limitations vary with different operating systems. Generally, it is best to store less than 10,000 files per folder. For more information on managing metadata please refer to: Managing Metadata – Views & Asset Types, Categories or Divisions & Initiatives.