Editing Files From Your Media Database
EnterMedia now offers the ability to edit media straight from your media database, with various design applications including InDesign and Photoshop, which includes the ability to publish folders and complex files into collections, and the ability to check in and check out files within the browser.   Some
library and hot folder setup
is required.
1.Moving Assets Into a Collection
After searching for existing assets in EnterMedia, you can select certain assets using the checkboxes and drag them into a new or existing collection from the collection sidebar.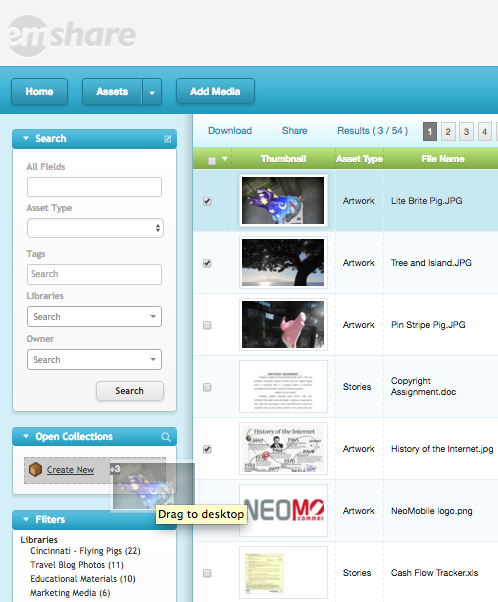 2.Working With Folders
To work with folders of files or multiple files, such as an InDesign document, users can drag and drop the entire folder from the categories side bar into a new EnterMedia Collection.  By default, the collection will be named the same as the folder.



 3.Uploading New Files Into a Collection
Use the add media tab in order to upload files directly into a collection.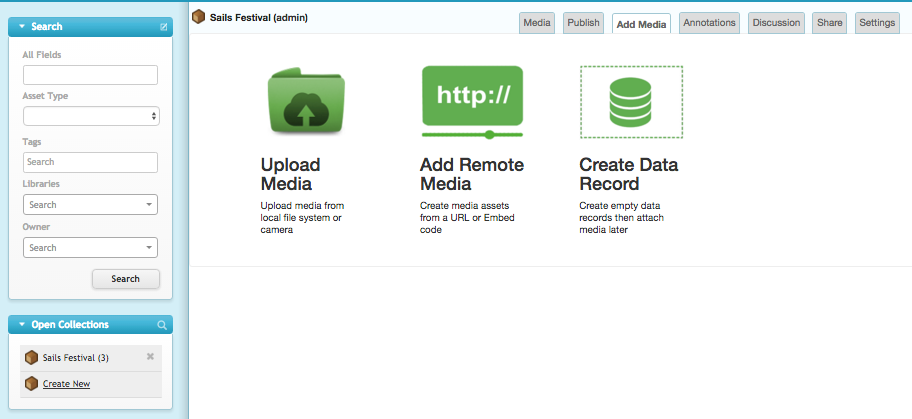 4.Exporting Files To Users
Files can be exported to the user's folder, and can also be exported to other user folders and libraries. You can also export files into any kind of library, such as a long term storage archive or product database.  This is not a copy process, exporting will move the original file so two copies are not created.  There will always be only one copy of the file at any given time, moved between various folders.
5.Editing Files With Photoshop or InDesign
Once exported, folders and files will show up in users EnterMedia folder, where they can be used within photoshop and resaved. Any new files will automatically added into the collection.  Thumbnails will automatically update within EnterMedia as files are edited.   In the example, the user folder is titled Jenny M.