Supported File Formats
You can upload any file regardless of the format and manage it in EnterMedia. But, for media-related files (images, videos, documents), you want to be able to view those in a meaningful way. To do this, EnterMedia needs to be able to recognize a particular media file format and convert it. ImageMagick is used to handle image conversions; ffmpeg / avconv are used to handle video and audio conversions. Exiftool as well as ffprobe / avprobe are used to read metadata. And LibreOffice is used for document conversions. File Format Table EnterMedia uses a data table of supported file formats. This table can be modified to manage what file formats will be supported by your particular implementation of EnterMedia. By default, this table supports a lot of file formats, but not all of them (See "Support Conversion Formats"). To modify this table, go to Settings > Data Manager > Choose Table "fileformat".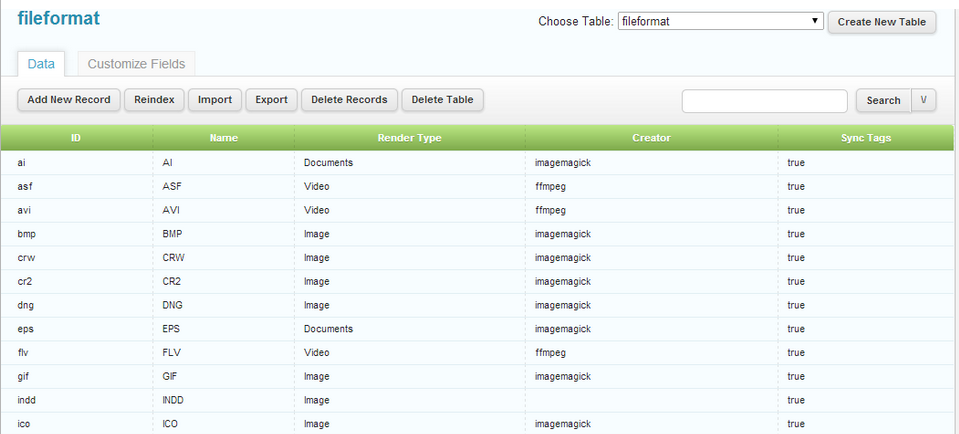 You may add records to this to support new formats, but be sure to specify a "Creator" such as "ffmpeg" or "imagemagick" depending on the media type. Asset Types Asset Types is a higher level concept of file formats that allow grouping of file extensions into particular "types". You can view and edit Asset Types by going to Asset Settings > Asset Types.

Notice the "Extensions" field. You can add extensions to an Asset Type here. You may also create new Asset Types and edit the names of the existing Asset Types. When you upload an asset, EnterMedia will look at the asset's file extension and set the Asset Type based on these lists. Supported Conversion Formats Since EnterMedia uses third-party software for conversions, the supported conversion formats are limited by those software. Below is a list of supported extensions ImageMagick (Images)
See http://www.imagemagick.org/script/formats.php for a full list and descriptions.
FFMPEG / AVCONV (Video & Audio)
| | |
| --- | --- |
| Tag | Mode |
| 3g2 | E |
| 3gp | E |
| 4xm | D |
| a64 | E |
| aac | D |
| ac3 | DE |
| adts | E |
| adx | DE |
| aea | D |
| aiff | DE |
| alaw | DE |
| amr | DE |
| anm | D |
| apc | D |
| ape | D |
| asf | DE |
| asf_stream | E |
| ass | DE |
| au | DE |
| avi | DE |
| avm2 | E |
| avs | D |
| bethsoftvid | D |
| bfi | D |
| bink | D |
| bmv | D |
| c93 | D |
| caf | D |
| cavsvideo | DE |
| cdg | D |
| cdxl | D |
| crc | E |
| daud | DE |
| dfa | D |
| dirac | DE |
| dnxhd | DE |
| dsicin | D |
| dts | DE |
| dv | DE |
| dv1394 | D |
| dvd | E |
| dxa | D |
| ea | D |
| ea_cdata | D |
| eac3 | DE |
| f32be | DE |
| f32le | DE |
| f4v | E |
| f64be | DE |
| f64le | DE |
| fbdev | D |
| ffm | DE |
| ffmetadata | DE |
| film_cpk | D |
| filmstrip | DE |
| flac | DE |
| flic | D |
| flv | DE |
| framecrc | E |
| framemd5 | E |
| g722 | DE |
| g723_1 | D |
| gif | E |
| gsm | D |
| gxf | DE |
| h261 | DE |
| h263 | DE |
| h264 | DE |
| hds | E |
| hevc | D |
| hls | E |
| hls | D |
| hnm | D |
| idcin | D |
| iff | D |
| ilbc | DE |
| image2 | DE |
| image2pipe | DE |
| ingenient | D |
| ipmovie | D |
| ipod | E |
| ismv | E |
| iss | D |
| iv8 | D |
| ivf | DE |
| jv | D |
| latm | DE |
| lmlm4 | D |
| lxf | D |
| m4v | DE |
| matroska | E |
| matroska | D |
| md5 | E |
| mjpeg | DE |
| mlp | DE |
| mm | D |
| mmf | DE |
| mov | E |
| mov | D |
| mp2 | E |
| mp3 | DE |
| mp4 | E |
| mpc | D |
| mpc8 | D |
| mpeg | DE |
| mpeg1video | E |
| mpeg2video | E |
| mpegts | DE |
| mpegtsraw | D |
| mpegvideo | D |
| mpjpeg | E |
| msnwctcp | D |
| mtv | D |
| mulaw | DE |
| mvi | D |
| mxf | DE |
| mxf_d10 | E |
| mxg | D |
| nc | D |
| nsv | D |
| null | E |
| nut | DE |
| nuv | D |
| ogg | DE |
| oma | DE |
| oss | DE |
| pmp | D |
| psp | E |
| psxstr | D |
| pva | D |
| qcp | D |
| r3d | D |
| rawvideo | DE |
| rcv | E |
| rl2 | D |
| rm | DE |
| roq | DE |
| rpl | D |
| rso | DE |
| rtp | DE |
| rtsp | DE |
| s16be | DE |
| s16le | DE |
| s24be | DE |
| s24le | DE |
| s32be | DE |
| s32le | DE |
| s8 | DE |
| sap | DE |
| sdp | D |
| segment | E |
| shn | D |
| siff | D |
| smjpeg | DE |
| smk | D |
| smoothstreaming | E |
| sol | D |
| sox | DE |
| spdif | DE |
| srt | DE |
| svcd | E |
| swf | DE |
| tak | D |
| thp | D |
| tiertexseq | D |
| tmv | D |
| truehd | DE |
| tta | D |
| tty | D |
| txd | D |
| u16be | DE |
| u16le | DE |
| u24be | DE |
| u24le | DE |
| u32be | DE |
| u32le | DE |
| u8 | DE |
| vc1 | D |
| vc1test | D |
| vcd | E |
| video4linux2 | D |
| vmd | D |
| vob | E |
| voc | DE |
| vqf | D |
| w64 | D |
| wav | DE |
| wc3movie | D |
| webm | E |
| wsaud | D |
| wsvqa | D |
| wtv | D |
| wv | DE |
| xa | D |
| xmv | D |
| xwma | D |
| yop | D |
| yuv4mpegpipe | DE |
Refer to http://libav.org/avconv.html for more details