Theme Editor
You can customize the appearance (theme, skin, etc.) of your Entermedia DAM with the Theme Editor. Apply company logos and colors to your heart's (or your Marketing team's) content.
Edit your existing themes by following the steps outlined below.
Go to Settings>System Settings>Preferences. The Theme Editor will be the first thing shown, and you will be able to customize the current theme or choose another theme from the drop-down menu, as shown below: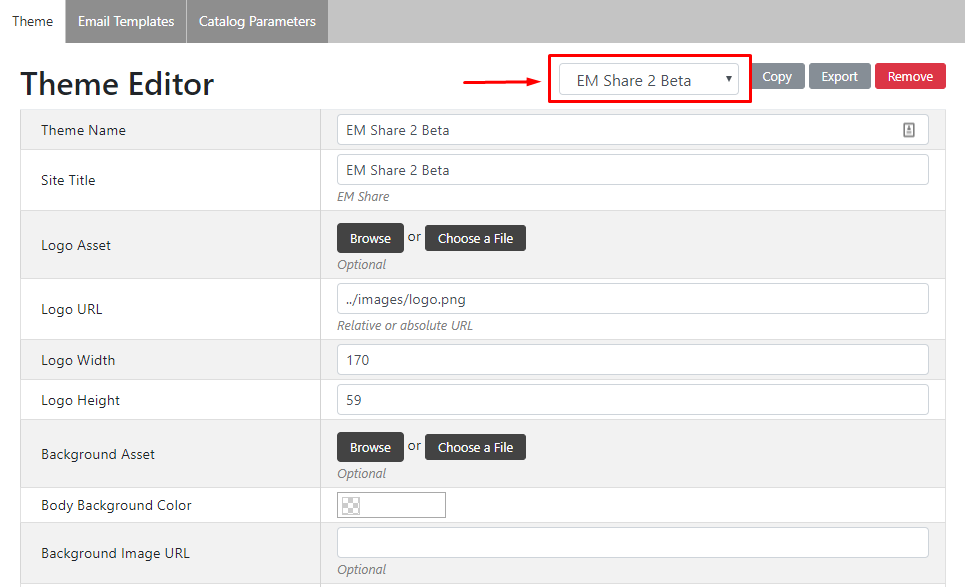 To create a new theme, go to Settings>System Settings>Data Manager. Once there, select theme from the drop-down menu. Once that page loads, click Add New and create/customize however you wish.
You can also import/export themes in CSV file type by clicking Import or Export in the same area (Data Manager>themetable).
NOTES for uploading the Logo image and Background Images (Background Asset and Background Image):
Select an image from the DAM, or upload a new one from your computer. Click save at the bottom as soon as you change any of these images, to view the changes and see if tweaking is necessary. When changing from an old image to a new one, it is best to clear the previous one first and save again BEFORE uploading the new image.
FINAL NOTE:
If a color code or field is left blank, the value from the fall back EMShare legacy theme is added.