Hot Folders
Hot folders are virtual folders created by EnterMedia Server, which are connected to a physical folder path in the system. any asset here, will not be written, but EnterMedia will read and create a copy on the system when specified
For more information check at import local file.
URL: This are created in in
 /assets/emshare2/views/settings/modules/asset/hotfolders/index.html 
Nickname = Nickname of the hot folder
Hot Folder Type = type of hot folder, "local", "Amazon S3 Drive" or "Google Drive"
(Goolge Drive Hot Folder Instructions)
External Import Path = Local disk drive, path, url, or Windows Share that will be mounted.
Internal Category Path = The path to the category location
How Often To Scan = Files in attachment folder that will trigger auto creation of attachments.
Priority = The order of this hot folder. 0-100 Higher comes first
Enable hot fodler scanning = Enable or disable scanning
Sample Configuration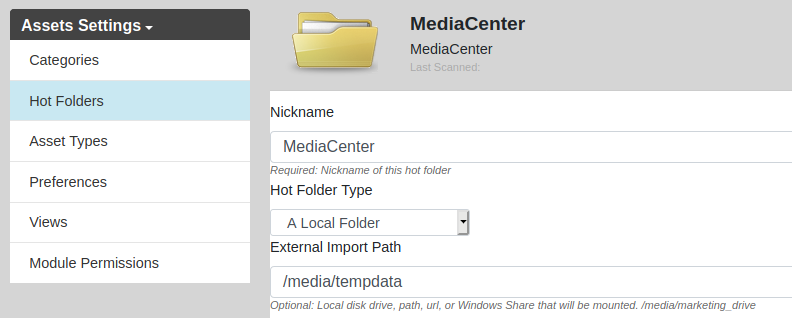 /media/tempdata
it's the physical folder in the system.
MediaCenter is the name of the name we will use in our assets.
Debug Logs
To enable logs you need to add a Catalog Setting called show_hotfolder_status = true
Then to view the logs use the Database editor and view hotfolderupdateLog and hotfolderscanLog